4romero.com
...friendly... ...honest and responsive... ...unbeatable with service...
... amable ... ... honesta y responsable ... ... con un servicio inmejorable ...
About Romero Electric / De Romero Electric
Licensed Electrical Contractor, Certified by the State of Texas
Romero Electric provides installation, repair and remodeling services for homes and commercial buildings. Our company prides itself on providing you with honest and efficient services. When you choose Romero Electric, you will always see our owner, Cipriano L. Romero, on-site making sure the job is done right.
The Areas We Serve
Baytown, Deer Park, Friendswood, Galveston, Houston, La Porte, League City, Pasadena, Pearland, South Houston
What We Do
We install, perform troubleshooting & maintenance services on:
Arc-fault Breakers
Appliance Circuits
Breakers & Fuses
Ceiling Fans
Electrical Outlets
Electrical Panels
GFCI Outlets
Landscape Lighting
Lighting Fixtures
Light Switches / Dimmers
Meter Loops
Recessed Lighting
Licenciado Electrical Contractor, certificado por el Estado de Texas
Romero Electric proporciona la instalación, reparación y remodelación de casas y edificios comerciales. Nuestra empresa se enorgullece de ofrecer a usted servicios honestos y eficientes. Cuando usted elige Romero eléctrica, siempre verá el propietario, Cipriano L. Romero, en el lugar asegurándose de que el trabajo esté bien hecho.
Las Áreas que Servimos
Baytown, Deer Park, Friendswood, Galveston, Houston, La Porte, League City, Pasadena, Pearland, South Houston
¿Qué hacemos?
Instalamos, prestar servicios de reparación y mantenimiento en:
Arco de falla automáticos
Circuitos de Aparatos
Interruptores y fusibles
Ventiladores de techo
Tomacorrientes
Paneles Eléctricos
GFCI Outlets
Luces para jardines
Los accesorios de iluminación
Interruptores de la Luz / reguladores
Completo de mediores
Iluminación empotrada
Craftsmanship since 1996
La artesanía desde 1996
Romero Electric Services Provided / Romero Servicios eléctrica provista
Electrical Installation Services
Whether you are building a new home or moving into an office building, Romero Electric offers expert electrical installation and wiring services. The most common electrical installation we do for commercial buildings is to update old power systems to meet the power needs of the new owner. We will also make sure our electrical wiring services for commercial buildings meet your city's code standards.
Electrical Repair Services
Are your circuit breakers or fuses blowing or tripping? We provide fast and efficient electrical repair services including repairing indoor and outdoor lighting, receptacles, and sockets. No job is too small.
Electrical Services for Remodels
If you are remodeling your home or business, we will provide you with exceptional electrical wiring services. Some of the most common electrical services we provide for remodels are installing new sockets or power sources for new appliances. For a commercial business undergoing a renovation, we provide electrical wiring services according to the electrical drawings and mechanical drawings for your location.
Servicios de Instalación Eléctrica
Si usted está construyendo una nueva casa o mudarse a un edificio de oficinas, Romero Electric ofrece una instalación eléctrica de expertos eléctricos y servicios de cableado. La instalación eléctrica más común que hacemos para edificios comerciales es actualizar los viejos sistemas de energía para cubrir las necesidades del nuevo propietario. También vamos a asegurarnos de que nuestros servicios de cableado eléctrico para edificios comerciales cumplan con las normas del código de su ciudad.
Servicios Eléctricos Reparación
¿Son sus interruptores o fusibles quemados o se botan? Ofrecemos los servicios eléctricos rápidos y eficientes de reparación, incluidas la reparación de la iluminación interior y exterior, recipientes,contactos electricos y interruptores. Ningún trabajo es demasiado pequeño.
Servicios Eléctricos para Remodelaciones
Si usted está remodelando su casa o negocio, nosotros le proporcionaremos con excepcionales servicios de cableado eléctrico. Algunos de los servicios eléctricos más comunes que ofrecen para remodelaciones a instalar nuevas tomas de corriente o de fuentes de energía para los aparatos nuevos. Para una empresa comercial a cabo una renovación, proporcionamos servicios de cableado eléctrico de acuerdo a los planos eléctricos y dibujos mecánicos de la localidad.
Quality Service
Servicio de calidad
Customers Reviews / Opiniones de los usuarios
"I have been using Romero Electric since 2002 for business and home repairs and remodeling, The service is always done with respect and in a timely manner. I recommend Romero Electric to all my friends, family and co-workers for great work and a friendly service."
Jon, Home Owner, Friendswood, TX
"Mr. Romero and his team are first-rate. Written quotes, Punctual, Service Oriented, Honest and Responsive."
Andrea, Real Estate Investor
"As a real estate investor, I have used Mr. Romero and his team on several major projects. He's unbeatable with service, quality, detail, and competence."
Michael, Real Estate Investor
"He estado usando Romero Electric desde el año 2002 para las reparaciones de negocios y el hogar y la remodelación, el servicio se realiza siempre con respeto y en forma oportuna. Recomiendo Romero eléctrica a todos mis amigos, familia y compañeros de trabajo para la gran obra y un servicio amable. "
Jon, dueño de casa, Friendswood, TX
"El señor Romero y su equipo son de primer nivel. Cotizaciones por escrito, puntual, servicios orientados, honesto y receptivo".
Andrea, inversionista de bienes raíces
"Como un inversionista de bienes raíces, he utilizado el Sr. Romero y su equipo en varios proyectos importantes. Es inmejorable con el servicio, calidad, detalle y competencia."
Michael, inversionista de bienes raíces
A Reputation Built on Trust
Una reputación basada en la confianza
Call Now / Llama ahora
*Proudly Serving The Greater Houston Area*
Hours by Appointment Only:
Monday – Friday, 8:00 am – 5:00 pm
Free Estimates. Call Today!
713-946-4218
* Orgullosamente Sirviendo el área de Greater Houston *
Horas por cita solamente:
Lunes - Viernes, 8:00 am - 5:00 pm
Estimados Gratis. Llame hoy mismo!
713-946-4218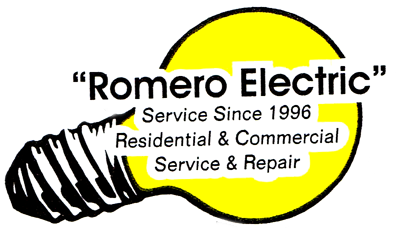 (c) 2010 - 2016, Romero Electric